I have a bunch of problems. Any help is GREATLY appreciated.
Firstly, the background won't repeat. You'll see in the pictures, the background doesn't repeat where the text goes. I have it set it repeat it:
<td background="whatever.png">
But it's not showing up....
1. I can't get the sidebar to repeat only instead of creating gaps. On the left is what it looks like okay, on the right is what it looks like bad.
This is my basic code I'm using:
header.php

<table id="Table_01" width="750" height="801" border="0" cellpadding="0" cellspacing="0" align="center">
	<tr>
		<td colspan="10">
			<img src="layout/images/newlayout_01.png" width="750" height="151" alt=""></td>
	</tr>
	<tr>
		<td colspan="4">
			<img src="layout/images/newlayout_02.png" width="429" height="68" alt=""></td>
		<td colspan="6">
			<img src="layout/images/newlayout_03.png" width="321" height="68" alt=""></td>
	</tr>
	<tr>
		<td colspan="5" rowspan="3" background="layout/background.png" width="476" valign="top">
			
			<!-- Here begins the sub-table -->
			
			<table border="0" cellpadding="0px" cellspacing="0px" align="right" width="95%" valign="top">
			<tr><td>
				<div align="justify">
				

footer.php

</div>
			</td></tr></table>			
			<!-- Here Ends the Sub Table -->
			<!-- <img src="images/newlayout_04.png" width="476" height="481" alt=""> --></td>
		<td colspan="3">
			<img src="layout/images/newlayout_05.png" width="190" height="432" alt=""></td>
		<td colspan="2">
			<img src="layout/images/newlayout_06.png" width="84" height="432" alt=""></td>
	</tr>
	<tr>
		<td colspan="5">
			<img src="layout/images/newlayout_07.png" width="274" height="49" alt=""></td>
	</tr>
	<tr>
		<td colspan="5" background="layout/sidebg.png" height="100%" valign="top">
			side text<p>
			this is cool</p>
			okay amazing<p>
			but the thing is, i still have to type to get them to be even!
			<p>
			why is this?</td>
	</tr>
	
	<tr>
		<td colspan="10">
			<img src="layout/images/newlayout_08.png" width="750" height="16" alt=""></td>
	</tr>
	<tr>
		<td>
			<img src="layout/images/newlayout_09.png" width="19" height="84" alt=""></td>
		<td>
			<img src="layout/images/newlayout_10.png" width="260" height="84" alt=""></td>
		<td>
			<img src="layout/images/newlayout_11.png" width="89" height="84" alt=""></td>
		<td colspan="3">
			<img src="layout/images/newlayout_12.png" width="174" height="84" alt=""></td>
		<td>
			<img src="layout/images/newlayout_13.png" width="105" height="84" alt=""></td>
		<td colspan="2">
			<img src="layout/images/newlayout_14.png" width="90" height="84" alt=""></td>
		<td>
			<img src="layout/images/newlayout_15.png" width="13" height="84" alt=""></td>
	</tr>
	<tr>
		<td>
			<img src="layout/images/spacer.gif" width="19" height="1" alt=""></td>
		<td>
			<img src="layout/images/spacer.gif" width="260" height="1" alt=""></td>
		<td>
			<img src="layout/images/spacer.gif" width="89" height="1" alt=""></td>
		<td>
			<img src="layout/images/spacer.gif" width="61" height="1" alt=""></td>
		<td>
			<img src="layout/images/spacer.gif" width="47" height="1" alt=""></td>
		<td>
			<img src="layout/images/spacer.gif" width="66" height="1" alt=""></td>
		<td>
			<img src="layout/images/spacer.gif" width="105" height="1" alt=""></td>
		<td>
			<img src="layout/images/spacer.gif" width="19" height="1" alt=""></td>
		<td>
			<img src="layout/images/spacer.gif" width="71" height="1" alt=""></td>
		<td>
			<img src="layout/images/spacer.gif" width="13" height="1" alt=""></td>
	</tr>
</table>
</body>
</html>

3. There is a color different in IE vs. Firefox. The pictures above show that the colors in the image and the background match, but in Internet Explorer the colors dont match: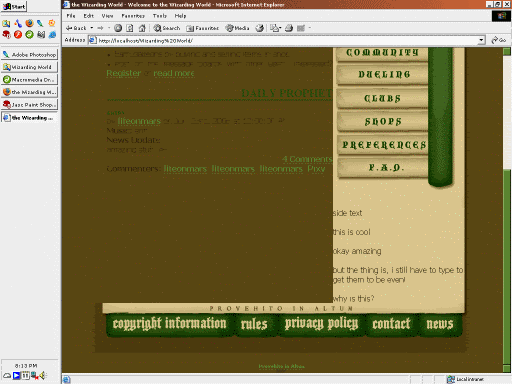 4. Colors in Photoshop look different than outside of photoshop. Example: